Introducing Airport Guardians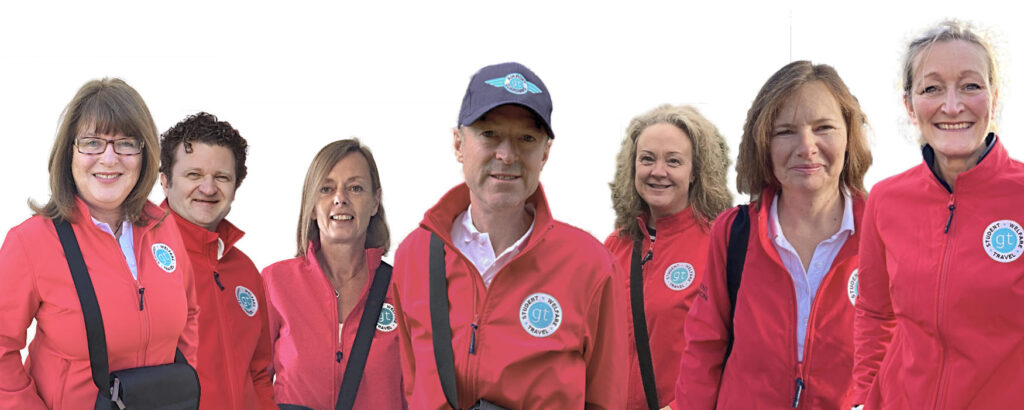 Airport Guardians in their RED JACKETS are present at London Heathrow on all main travel days. 
Your son or daughter will never be far away from one of them. The Airport Guardian team has been carefully chosen to make sure your son or daughter feels well taken care of as they transit the airport and make their way to the vehicles for the next stage of the journey to school. 
There are FOUR terminals – 2, 3, 4 and 5.
Terminals 2 and 3 are next to each other and walking between them is via a subway which takes 10 minutes.
Terminal 4 is the other side of the runways from 2 and 3 and is the most distant terminal. Drive time to Terminal 4 is 15 minutes. Transit to Terminals 2 and 3 is via London Underground (the tube), is free and takes up to 30 minutes.
Terminal 5 is at the end of the runways, close to the M25 motorway. Drive time to Terminals 2 and 3 or Terminal 4 is 10 minutes. Transit to Terminals 2 and 3 is via the Heathrow Express (Paddington train), is free and takes up to 40 minutes.
Travel between Terminals 4 and 5 and Terminal 3 is by train and is free, but you will need either a contactless credit/debit card, phone with Apple or Google Pay or a free ticket from a station attendant to operate the ticket barrier. From Terminal 2 you can walk (10-15 mins lower ground walkway). If in doubt, ask a member of staff.
All coaches leaving Heathrow depart from Terminal 3.
NOTE: During Covid Terminal 3 was closed and coaches moved to 2. Terminal 3 is open again and all departures are from there.
Students must rendezvous in Terminal 3 Arrivals, near the stairs down to the subway. There is seating available, several shops including mobile phone top-up and food, and two cafés for those who have some time to wait. The coach park is immediately outside the rear door of the Arrivals hall (near the Emirates booth).
Coaches wait off-site and only come to the coach park once all students have arrived. It takes the coach 15-20 minutes to travel from the off-site park to the terminal.
On main school travel days there will always be an Airport Guardian in Terminal 3 wearing a red jacket and available to guide and assist students.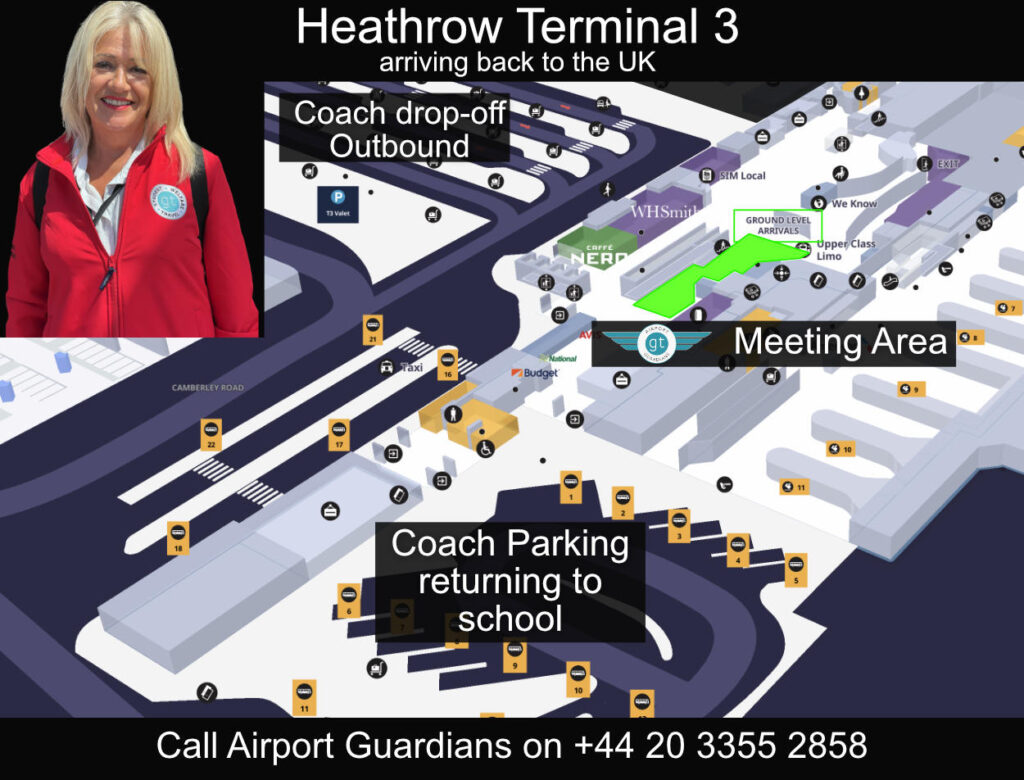 Arriving at Heathrow by coach.
Coaches drop off at all terminals according to demand.
Terminal 2: The coach stops on the ground floor Arrivals forecourt, Lane 3, Bus Stop 17.
Terminal 3: Departures forecourt, Lane 2: (https://w3w.co/office.pens.trial 51.470529, -0.45701200)
Terminal 4: Arrivals forecourt, Lane 3, Bus Stop 21
Terminal 5:  Arrivals forecourt, Lane 2, Bus Stop 31
Travelling from central London
Travel to and from central London is either via the Heathrow Express direct to Paddington (fares are £25 or less if booked in advance https://www.heathrowexpress.com/tickets-deals/prices-fares) or via London Underground (£3.10 off-peak to zone 1).
Trains/tube are accessed from the pedestrian subway between terminals 3 and 2.
The Heathrow Central Bus Station is also accessed from here. Do not confuse the Central Bus Station with the Terminal 3 coach park.
There are drop-off only areas in front of all terminals (£5 fee per terminal), however it is not permitted to park and pick up from here.
When picking up a student arriving by coach you should park in the short stay car park at the terminal and walk to the drop-off area.